It has been more than 20 years since I last had a dedicated modelling room, and the spaces within which, to continuously model. It is nice to be able to leave out projects that I am working on, and not have to worry about little hands and my wife getting grumpy at me because of the mess I leave about. I'm not complaining mind. Just saying that it is nice to be able to leave out projects that I'm not quite finished with and come back to them hours, days or even weeks later without the guilt of being in another's way.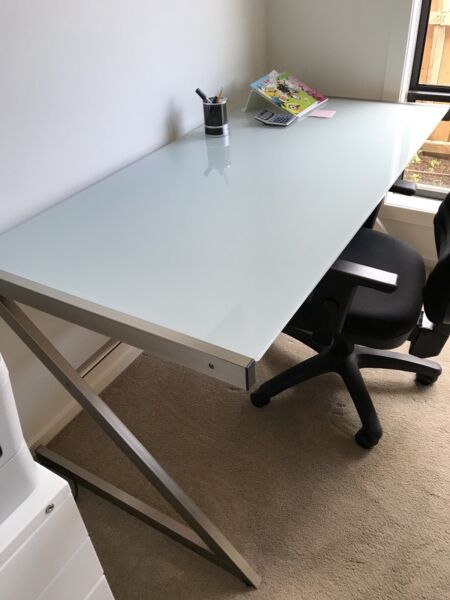 I was lucky in finding a solid glass top desk in a local thrift store (on the cheap mind). Nice thick glass (perfectly flat and great to use when scratchbuilding) with plenty of space to build and keep the projects on (see the image on the left).
And there are several projects that I need to advance and get to completion. Among them are the following Australian outline kit building projects:
I've actually got about 12 of these to complete, and I've learned along the way with the kits that while it would be nice to include everything I originally planned, unless you build them from scratch you have to compromise. These will eventually belong to an Aussie outline small layout for exhibition. More on that later – as I need to buy some motive power (A Y class loco, or two, or three, and a T Class too if I can get my bookkeeper to authorise the purchase).
Then there are the following US outline projects:
O Scale GP38-2 rebuilds (more on that here)
HO Scale SW1500 rebuilds (more to come on that in another post soon)
Completion of a bunch of HO scale car repaints, upgrades and so on
There are several other types of non-rail modelling projects that I'd like to finish too, including Robby the Robot, a series of BSG (Battlestar Galactica) projects, a couple of Star Trek projects and tanks, submarines, and a couple of dioramas for these said projects too.
That's it for now on this update. There'll be more information and write-ups coming on these projects as I get them moving again. I still have some parts to order for the O scale project, where as I've all the parts needed now for the SW1500s.